Last year I started the series 'Fashion and Society' which looked at fashion in relation to society, ranging from the business of fashion to fashion politics, movements, how fashion can develop both individuals and countries, fashion news, the finances underlying fashion. Literally anything and everything - whenever fashion has an impact on society, it will be discussed. My favourite feature of this series is the inspiring individuals, a set of interviews talking to those doing amazing things in the fashion industry.
I was able to interview Smart Works charity, a organisation that provides high quality interview clothes and interview training to unemployed women in need. Women, who are suffering from a lack of confidence in their own abilities are referred to Smart Works from organisations such as job centres, work programmes, prisons, care homes, homeless shelters and mental health charities. After style consultation and one-on-one interview training, 60% of Smart Works clients go on to get the job. In September 2018 Smart Works celebrated their fifth birthday and have supported over 11, 000 women within that time, so of course I interviewed them to get to know more.....
Maya
: Smart Works is a charity that provides high quality interview clothes, styling advice and interview training to women in need. From its beginning in North London, to centers in Manchester, Newcastle and expansion across the London area - Where did the idea for Smart Works come from? And what was the turning point i.e. the thing, person, or event that made the idea behind the charity materialize?
Smart Works
: Smart Works was founded upon a very simple principle; that when a woman looks and feels fabulous, she starts believing in her own ability to succeed. This confidence translates into success at job interviews and can have a life-changing effect. Our Chair and Founder, Juliet Hughes-Hallett, launched Smart Works with the aim to support unemployed women across the UK. With the support of a great Board and an incredible volunteer and staff team, not to mention some brave and foresighted funders, we've been able to take Smart Works to seven different centres around the UK and were proud to be voted Social Action Charity of the Year by our peers.
Maya
: The aim of the organization is to give women the confidence, the self-belief and the practical tools they require to succeed at interview and start a new chapter of their life - What has been the most challenging obstacle that the team has to overcome to achieve this?
Smart Works
: The challenge we have faced is the same that every organisation – business or charity – faces when it is growing: how to scale whilst keeping true to the original service that has been the key to our success. This is particularly true when growing a charity as there is so much need and it is tempting to try to be all things to all people. Our success has for the main part come from focusing on what we do best – our coaching and interview preparation service – and taking this to as many women as possible.
Maya:
Your key supporters include Bobbi Brown and Whistles, with notable ambassadors such as Samantha Cameron - What do you look for in an organization or person when selecting a partner for collaboration?
Smart Works:
We are proud to have such wonderful supporters. Our patrons come from diverse professional and personal backgrounds: actress, comedian, producer and writer Jennifer Saunders, top designer Betty Jackson, fashion industry legend Jane Shepherdson and award-winning journalist and broadcaster Emma Barnett. All of our patrons and ambassadors are aspirational, passionate about empowering other women, and have the relevant experience and expertise to share with the Smart Works community, be it with our staff, volunteers, clients or supporters. Similarly, our retail and corporate supporters are inclusive, high-quality and most importantly identify with our mission of inspiring women to be confident, courageous and powerful. In addition, they are all hugely empathetic and naturally connect with our cause, and the women we help.
SIDE NOTE: MEGHAN MARKLE IS NOW A ROYAL PATRON FOR THE CHARITY.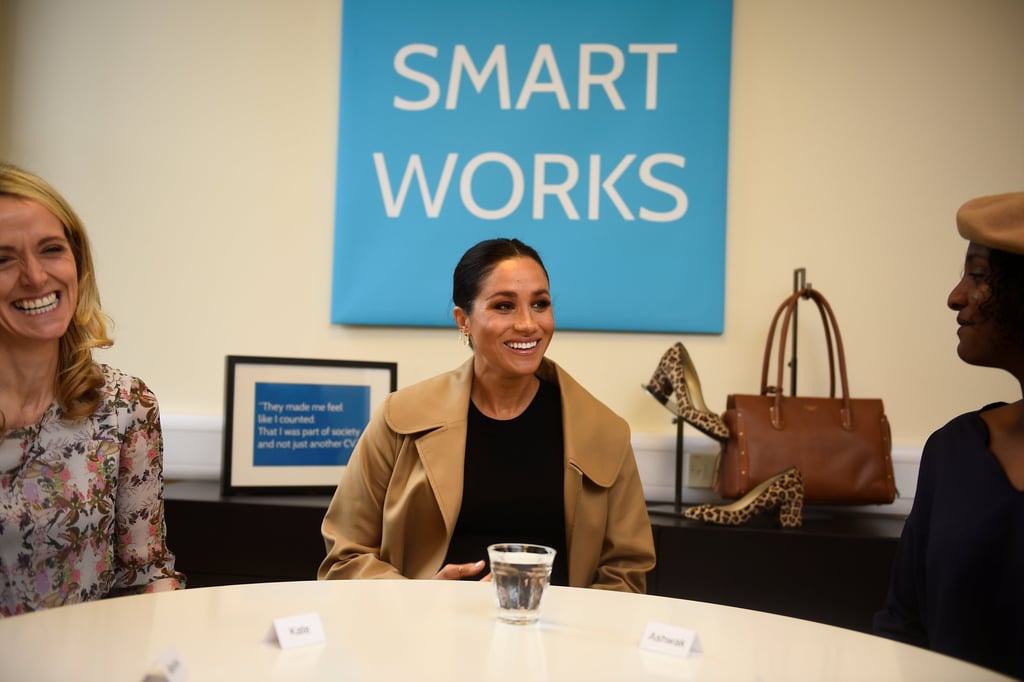 Maya
: What is one thing you have learnt about the industry that you didn't know before working at Smart Works?
S
mart Works:
We are fortunate enough to see the Smart Works service in action on a daily basis, and so are regularly reminded of the profound impact that clothes and fashion have on a woman's confidence and self-esteem. 54% of women who come through our doors have been unemployed for over a year, and 34% have applied for over 50 jobs. Many arrive feeling apprehensive, nervous and are lacking in confidence. It is truly a privilege to witness first-hand the transformations that take place in the dressing room. We see clients blossom into positive and confident women, laughing and smiling, all thanks to a Hobbs coat or an amazing pair of tailored trousers. It is through these 'magic moments' that we continuously rediscover the power of fashion.
Maya:
In your words, how would you describe the impact fashion and clothing have on society?
Smart Works:
At job interviews, first impressions count. It is important to present oneself as competent and professional, and inevitably fashion and clothing play a part in this. Often the notion that we are judged based on our appearance doesn't seem easy or fair, but realising this fact means it can be harnessed to our advantage. At Smart Works we aim to use fashion and clothing as a force for good, allowing women to outwardly present the best version of themselves so that their skills, personality and suitability for the position can shine through.
Maya:
And finally, how can readers get involved? What are the top three tips you would have to anyone aspiring to get involved?
Smart Works:
There are so many ways to get involved with Smart Works, from organising a clothing drive, to volunteering and fundraising.
Our top three tips for supporting Smart Works;
Be inventive. Fundraising should first and foremost be fun, and we absolutely love to hear the imaginative ways in which people have raised money, be it through a charity fashion show, or a sponsored swim in the Serpentine whilst dressed in work wear (as interns at Aon did last year!)
Find your nearest Smart Works. We currently have offices in North and West London, Manchester, Birmingham, Edinburgh, Reading and Newcastle, and their relevant contact details are on our website (smartworks.org.uk). Please do get in touch and ask how you can send clothing donations, whether they are looking for volunteers, or how else you could help.
Spread the word! Speak to a friend who you think may benefit from our service, or to a family member who may be able to refer women to Smart Works. Consider organising a clothing drive at work, or attending our fabulous designer sale which raises vital funds. Finally, follow Smart Works on Instagram, Twitter, Facebook and LinkedIn. We would love to hear from you.
With London being the first location for a Smart Works centre, it was swiftly followed by one in Edinburgh opening in 2014, Manchester and Reading in 2015, Birmingham in 2016 and then Newcastle in 2018. Each centre works with clients, volunteers and supporters in their own region to bring the Smart Works service to life, united by a shared mission, a desire to collaborate and a commitment to bringing the very best quality service to every client. To hear more about the wonderful work Smart Works does, click
here
.
Mx